J-Type Register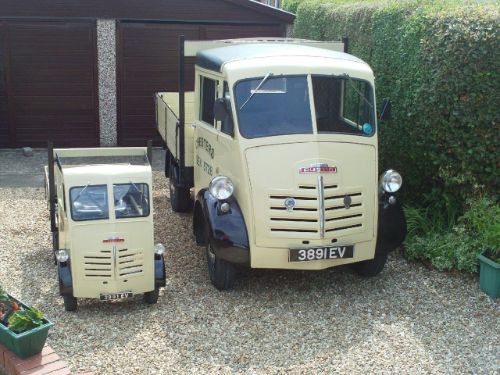 J-Type Register
Join the J-Type Register in commemorating the 75th anniversary of the Morris J-Type van, a historic milestone first unveiled at the 1948 Commercial Vehicle Show at Earl's Court in London. At stand 3-465, we pay homage to this momentous achievement with a captivating display of vehicles.
With perfect partners in mind, The J-Type Register has booked a beautifully restored 1956-registered Royal Mail Morris Commercial J-type, SLO 234, a star of both cinema and TV screens. It appeared in the recent film 'Once upon a time in London' and has made numerous appearances in 'Father Brown'. The Austin half of the perfect partnership will be taken by a 1959-registered Austin 101 coachbuilt pick-up, 3891 EV. This will have its own 'perfect partner' with it, a 1/2 scale driveable version of itself, built on a lawn-mower chassis.
Anticipating the approaching 30th birthday of the Register, the team remains keenly aware of the need to engage a younger audience. Thus, this year's display materials are thoughtfully curated to captivate the imagination of a younger generation, featuring J-type line drawings for colouring and entertaining puzzles. The J-Type Register eagerly awaits to share this celebration with enthusiasts of all ages, reminisce about the journey of the Morris J-Type van, and continue promoting the legacy of these remarkable light commercial vehicles.
Cars on Display:
1956-Registered Royal Mail Morris~Commercial J-Type (SLO 234)
1959-Registered Austin 101 Coachbuilt Pick-up (3891 EV)
Third Car: TBC