07 Jun 2023
Join the Healey Community and Shop for Classic Healeys For Sale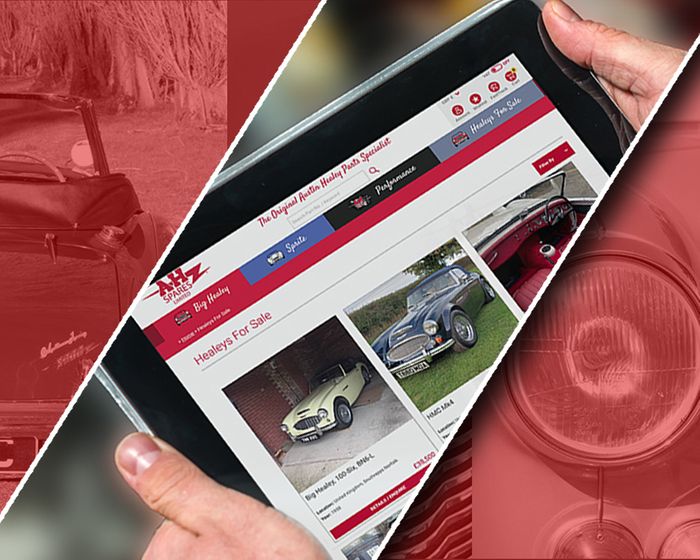 Join the Healey Community and Shop for Classic Healeys For Sale Maximize your car's worth - Reach a wider audience with A H Spares for FREE!
Ready to give your Austin Healey a new home? Join our community of collectors and sellers by listing it on our website, no fees required.
If you're a fan of the Austin Healey or simply looking to add a classic car to your collection, our Healeys For Sale page is the perfect place to start. Join the Healey community and connect with fellow enthusiasts who share your passion for this iconic sports car.
A H Spares Ltd helps connect Austin Healey owners, buyers, and sellers of these beloved classic cars. Sellers can list their Austin Healey FOR FREE by logging in or creating an account on our website, clicking the "Sell" icon, then providing a photo and some details. It is important to include accurate vehicle details and a clear photo of the car to attract potential buyers. The more photos you can provide, the better.
You won't have to pay anything to advertise your Healey on our Healeys For Sale page, allowing you to retain the full value of your car's sale.
Remember to include the correct telephone number and email address in your account. A H Spares Ltd will not accept responsibility for any errors on the listing, so double-check all information before submitting. It's also a good idea to add "website@ahspares.co.uk" to your email address book to ensure you receive emails from buyers.
Buying A Healey
Looking to buy an Austin Healey? Simply browse our Healeys For Sale page for listings. Keep in mind that some cars may be listed as damaged or in need of repair, while others may be in pristine condition.
Tips for Buying and Selling a Healey
Buying and selling a classic car like an Austin Healey can be a daunting task, but with a few tips, the process can be made much easier
Knowledge is King
When it comes to buying a Healey, always make sure to do your research and ask plenty of questions. Be specific about what you're looking for in a Healey, whether it be a particular model like an Austin Healey 3000 for sale or an HMC MK4 for sale, or if you're looking for a project car to restore.
Inspecting the car thoroughly is also crucial when buying a Healey. Look for signs of damage, rust, and any potential mechanical issues. If possible, take the car for a test drive and pay close attention to how it handles and sounds.
Presentation & Clarity are Key
Selling a Healey requires just as much attention to detail. First, be realistic about the price you're asking for. Research what other Austin Healeys for sale are going for in similar condition and adjust accordingly. Consider having the car professionally detailed to make it look its best for potential buyers.
When listing a Healey for sale, make sure to include detailed information about the car, such as its history, maintenance records, and any modifications that have been made. Clear and high-quality photos are also crucial to make the listing stand out.
If the Healey has any damage or needs repairs, be upfront about it in the listing. Buyers appreciate honesty and transparency when it comes to purchasing a classic car like a Healey.
Take your Austin Healey from garage to glory. List it on our Healeys For Sale page and find it a new owner who will love it as much as you do.
Don't miss your chance to reach the right buyer - list your car for free on A H Spares today!
Our Healeys For Sale page is the go-to destination for anyone looking to buy or sell an Austin Healey. We have a constantly updated list of Healeys for sale, with a wide range of models and conditions to suit any budget and taste.
Whether you're looking for a showpiece for your collection or a weekend project, we've got you covered. So why not join the Healey community, get in touch with sellers and start shopping for your dream car today?
Connect with passionate Austin Healey enthusiasts from around the world for free!