11 Oct 2021
Resto to Rally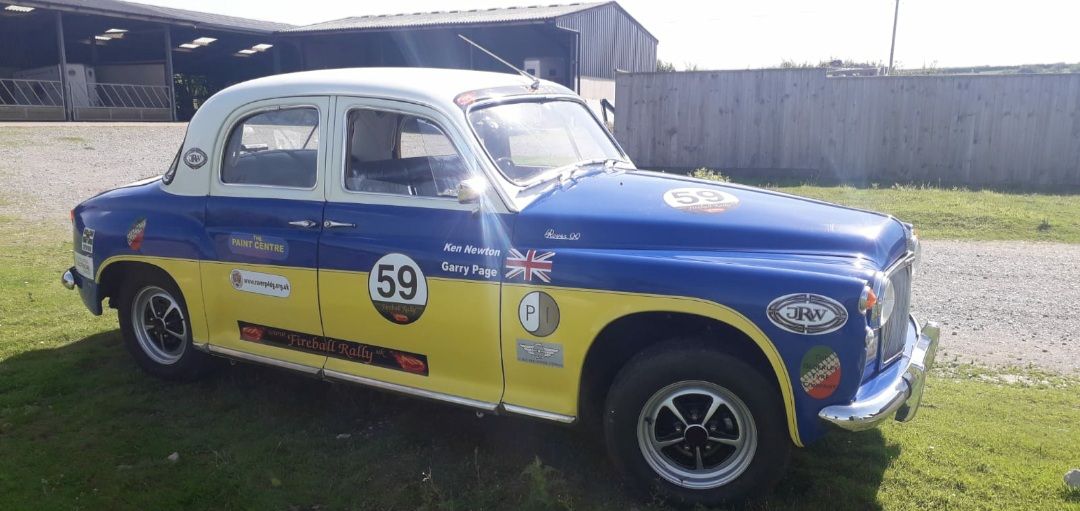 The 1958 Rover P4/90 was rescued from a scrapyard in Somerset by a Mr Cabble who spent a lot of time restoring the chassis and running gear of the car. Unfortunately, the P4 spent a lot of time off the road with parts labelled in many boxes.
Ken became the present owner of the P4 in 2013 with the intention to one day do something with it but it sat undercover in a barn until Garry Page and the Devon group organised the P4 75th anniversary in 2019 and helped raise money for the James Hopkins Trust in Cheltenham. This is where the idea came of turning the P4 into a vehicle that could be used to attend various events in the UK and attend rallies with the Fireball Rally group in Europe and raise some further funds for the charity concerned.
The P4/90 is basically a standard Rover 90 with a very eye catching colour scheme and some modern extras for modern motoring to help make our up and coming adventures a little easier, like uprated disc brakes, 3:54 differential, seat belts and modern radio with sat nav.
Covid-19 played a big part in the restoration as most rallies were called off so Ken had extra time to ensure the car was right. His tireless efforts to restore the P4 were supported Garry Page, who sorted the sponsors, and who will be Ken's co driver on all the adventures. Our aim as a club is to encourage younger drivers that old classic cars can be very enjoyable for different reasons and be seen as a trendy aspect of motoring like it used to be back in the 50's and 60's.
Make sure you visit the the Rover P4 on the Rover P4 Drivers' Guild stand in Hall 4, Stand 565.