12 Jul 2023
Unlock the True Beauty of Your Austin Healey with A H Spares' Aluminium Shrouds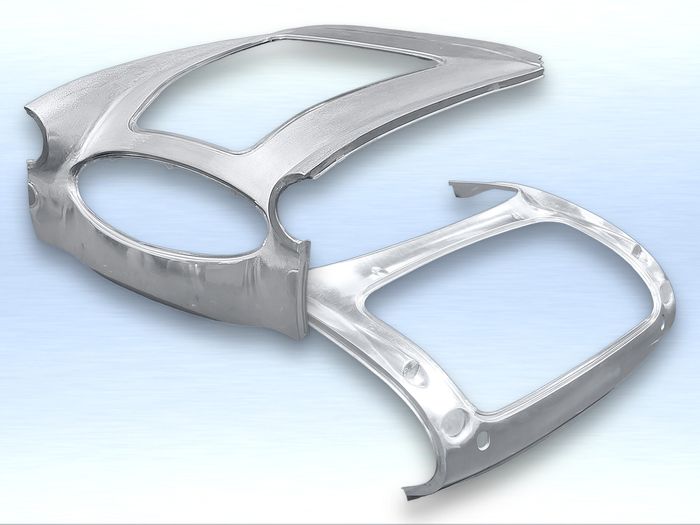 Introducing High-Quality Austin Healey Aluminium Shrouds: The Perfect Fit for Your Restoration Project
Are you looking for the perfect fit for your Austin Healey restoration project? Look no further! We are proud to introduce our high-quality Austin Healey aluminium shrouds, made exclusively for us by A H Panels.
Our shrouds are designed using 3D scanned original cars to ensure an O.E. quality perfect fit every time. Don't miss out on the opportunity to own these stunning, hand-crafted aluminium shrouds that will make your project stand out.
Restore your Austin Healey with O.E. Quality Parts
When it comes to your Austin Healey restoration project, quality is key. That's why you should choose our reproduction Austin Healey aluminium shrouds. These front and rear shrouds are hand-made by some of the highest-skilled sheet metal workers in the industry and are built on our own tooling to ensure a perfect fit. With a smooth high-quality metal finish to save paint prep time, these shrouds fit as well as the O.E. panels. Exclusively made for A H Spares by A H Panels, these shrouds are a testament to O.E. quality and minimal hard work.
Maintaining O.E. Quality with 3D Scanned Tooling
For maximum quality and an exact fit on your Austin Healey, the new aluminium front and rear shrouds have been constructed using tooling derived from 3D-scanned Healeys that have clocked less than 4,000 miles. CAD models were formulated from the scans, which were then reverse-engineered to produce the tooling - this makes sure that every shroud crafted from it will always fit properly.
The tooling is CNC machined for the highest precision, creating a perfect reproduction of the original shroud design. This level of detail and accuracy is crucial in ensuring that the final product maintains O.E. quality and fits seamlessly with your restoration project.
Whether you are looking to restore your classic Austin Healey to its former glory or simply looking for high-quality replacement parts, these aluminium shrouds are the perfect choice!
When it comes to restoring a classic Austin Healey, attention to detail is key. After all, you want your project car to not only run smoothly in the end but to also look stunning once completed. That's where our high-quality aluminium shrouds come in.
Imagine the satisfaction of seeing your fully restored Austin Healey, complete with beautifully crafted body panels that are an exact match to the original. With our O.E. quality aluminium shrouds, that vision can become a reality.
Benefits of A H Spares' Aluminium Front & Rear Shrouds
Professional Quality Results - Impress your friends with precision aluminium shrouds for your Austin Healey restoration project that guarantee OEM quality and seamless fitting every time.
Experience Lasting Perfection - Don't worry about ill-fitting parts anymore. 3D scans of original cars have been used to reverse-engineer the CAD models and create the tooling, ensuring that your parts will always be a perfect reproduction.
Keep it Authentic - Get the satisfaction of restoring a classic with the utmost respect, by getting authentic parts designed and built specifically for Austin Healeys.
By investing considerable effort and resources into producing the highest-quality body panels and shrouds for your Austin Healey, we stand apart from other suppliers in the market.
Not only do our shrouds provide a precise fit, but they also offer numerous benefits over traditional steel panels. Aluminium is lightweight yet incredibly strong, making it an ideal material for automotive applications. Its corrosion-resistant properties mean that your restored Austin Healey will stand the test of time, remaining in pristine condition for years to come, (depending on how hard you drive it, of course).
At A H Spares, we pride ourselves on our commitment to excellence. We go above and beyond to ensure that our aluminium shrouds are of the highest quality, surpassing industry standards. When it comes to restoring your Austin Healey, don't settle for anything less than perfection. Choose our aluminium shrouds for a flawless finish that will truly elevate your restoration project to the next level.