Anti Corrosion Battery Mat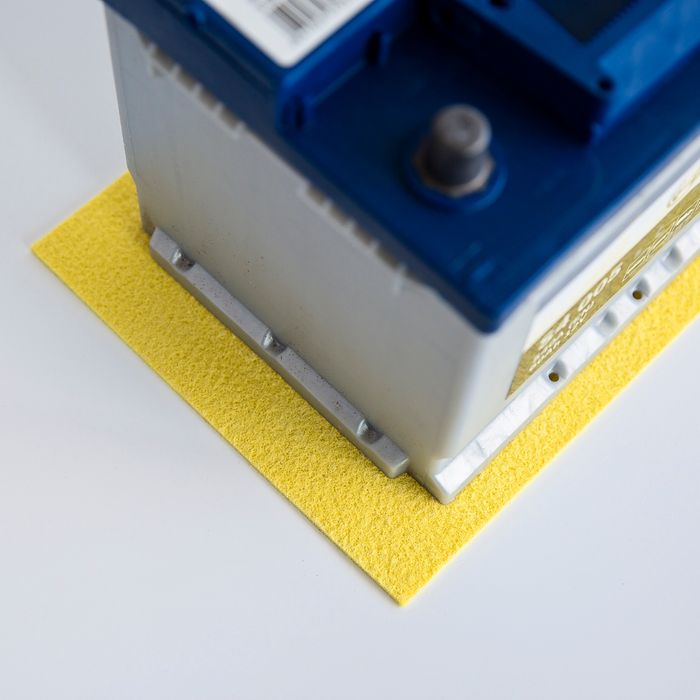 Your car is at risk – from its own battery. An acid leak causes untold damage from corrosion. The Original Battery Mat® neutralises any acid spills and repels moisture, keeping the area under and around your battery clean, dry and corrosion free.
The Original Battery Mat® is made of super absorbent polypropylene needle punch felt, with one side heat treated to give it additional strength. This fabric is slowly pressure-treated at high temperatures with a unique, all-natural, acid neutralizing formula, and then cured in ovens. Finally, the fabric is dipped in a latex sealant mixture, again in the ovens, and screen printed.
Because of the latex sealant, it repels water and keep the acid neutralizers sealed in and potent. Because the latex sealant is not impervious to battery acid, however, the acid will seep into the BatteryMat's highly porous fabric, where it will be absorbed and harmlessly neutralized.
The Original Battery Mat® (at 20cm x 30xm is slightly larger than a standard size battery) is inserted underneath the battery, which is then clamped down as usual. It can be cut with scissors to match the shape of the battery or battery tray. It can be installed easily at any time, either under and existing battery or when replacing an old one.