Our New Land Rover Defender Catalogue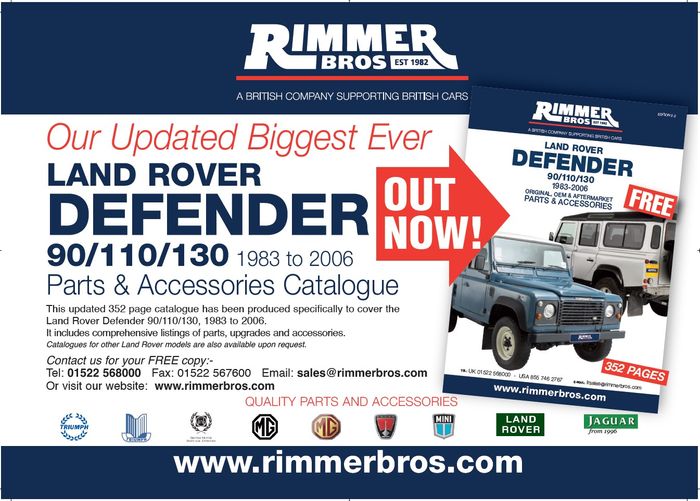 Rimmer Bros are pleased to announce that we now have available FREE to owners an updated and improved version of our Range Rover Classic parts and accessories catalogue!
Since the early 1980s, Rimmer Bros has specialised in supplying parts for British cars. In 1982 we started selling Classic Triumph parts and by the mid 80's were supplying stainless steel exhaust systems for Land Rovers and other 4x4 vehicles. In 1993, we added to our range of parts catalogues when we began stocking parts for the Rover SD1. In the summer of 2000, to celebrate 30 years of Range Rover production, we launched our parts catalogue for the Range Rover Classic followed quickly by Discovery 1 and Defender Catalogues. This was a natural move, as the vast majority of these models were powered by the Rover V8 engine - a subject in which we already specialised.
These were followed by our Range Rover P38a, Range Rover L322, Range Rover Sport (up to 2009), Discovery 2, Discovery 3, Discovery 4, Freelander, Freelander 2, and Defender (2007 on) parts and accessories catalogues. In 2005, Rimmer Bros set up an MG Rover Parts business with catalogues covering all models and more recently added Jaguar (1996 on) to our range.
We are now pleased to return to the beginning of the Land Rover parts side of our business by introducing a completely revamped and updated parts and accessories catalogue for the Land Rover Defender, to replace the old catalogue that has served us and our customers so well for the last 22 years. This new catalogue details what has been a continuously growing range of genuine, original equipment manufacturer (OEM) and aftermarket parts and accessories. Our website also features this catalogue plus any new products or part number changes.
This updated 352 page catalogue has been produced specifically to cover the Land Rover Defender 1983 to 2006. It includes comprehensive listings of parts, upgrades and accessories.
Catalogues for other Land Rover models are also available upon request. Visit our stand # 1-155 in Hall 1 for your FREE copy or Tel: 01522 568000 Fax: 01522 567600 Email:lrsales@rimmerbros.com or go to our website www.rimmerbros.com"