05 Sep 2022
Dirty Dozen - Concours of Elegance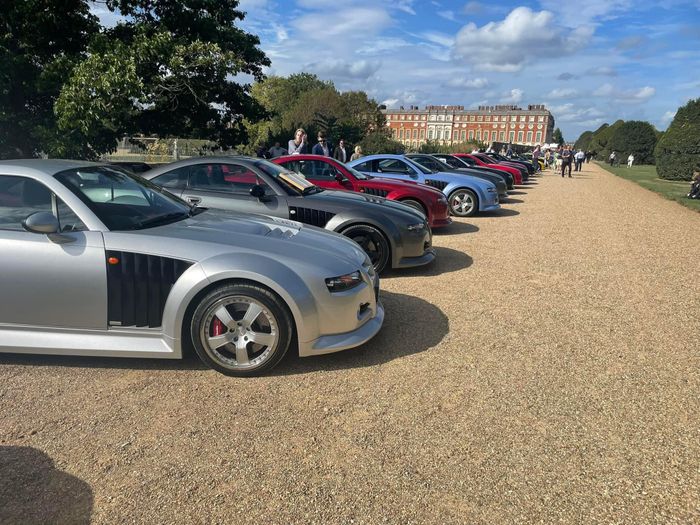 Concours of Elegance at Hampton Court on Sunday 4th September 2022
Once again for the third consecutive year with the gathering of 12 SV/SV-Rs at the Concours of Elegance at Hampton Court on Sunday (Sept 4th). That number represents a significant number of the known 87 or so existing SV/SV-Rs and SV-Ss. You can see many pictures on the MG SV Club Facebook page… (There's also a video on YouTube… mg xpower sv's at concourse of elegance 2022 - YouTube ).
The weather gods smiled on the event again, and the MG SV club assumed the same position as in 2021 down near the Thames. Although a little distance away from some of the eclectic Concours entries and other multi-million pound exotica, we were able to welcome many curious visitors. Many arrived with a knowing smile and engaged in extensive discussion with the various owners who were enjoying their picnics on the lawns. A common statement uttered was "I've heard of the SV, but I've never seen one in the flesh". Most visitors left more informed and more effusive over the SV/SV-Rs. I think the great thing about the SV/SV-R is that it is totally classless. One day we can mix with the high and mighty of the classic motoring world sipping their champagne and the next day we can turn up at an MG 'noggin and natter' and have a pie and pint.
In 2020 we had the "Magnificent Seven", and last year (2021) it was "Ocean's Eleven" This year it was the turn of the "Dirty Dozen" with attendees being #111 Graeme in the XPower Grey ex-Maidstone Sports SV-S, #118 Nigel in his ex-Top Gear French Titanium SV-R, #124 John in his Dark Cobalt SV, #129 Nigel in his Red Hot SV-R, #136 John with his BRG SV-R ex-EVO Rowan Atkinson car, #137 Gareth and his XPower Grey SV-R ex MG Rover Director's (John Parkinson) car, #139 Dominic and his 2004 Birmingham NEC Motor Show and Earls Court MPH Dusty Blue SV-R, #140 Gareth in his Raven Black SV, #152 Stan his Red Hot SV-R, #155 Andy (with Cath driving) Red Hot automatic SV-R, #181 Chris with his splendid recently completed Red SV-R and of course yours truly in my Mirror Silver #151 SV-R ex John Towers (MG Rover Chairman in 2005) car. Naturally all the owners are thankful again to Gareth for his superb organisational skills.