25 Oct 2021
Motul steps up to become Official Lubricant Partner of the Lancaster Insurance Classic Motor Show, with discovery+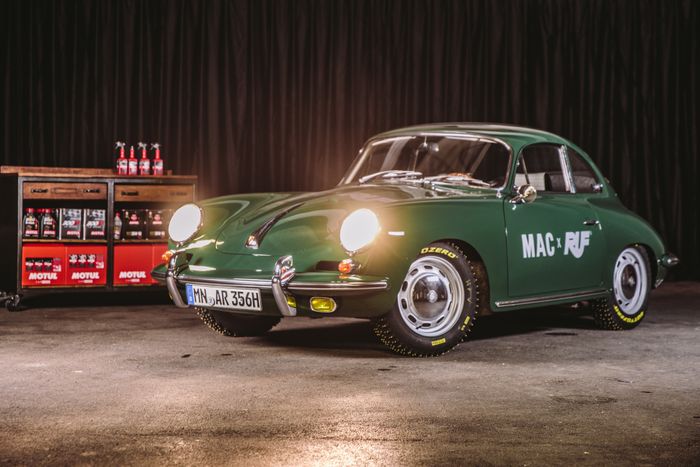 MOTUL and the Lancaster Insurance Classic Motor Show, with discovery+, are delighted to announce a new co-operation agreement that sees Motul appointed as the Official Lubricant Partner of the UK's leading classic car expo.
The partnership is announced in time for the 2021 event, which takes place at the NEC over the weekend of 12-14 November and is the first year of a new three-year minimum deal to further cement Motul's presence in the UK's historic vehicle community, coming hard on the heels of the announcement of Motul's recent partnership with the Federation of British Historic Vehicle Clubs (FBHVC) - the umbrella organisation for a vast number of the UK's historic vehicle clubs and associations.
Motul is a core part of transport history, having been founded in 1853 in the USA as part of Swan and Finch, before being bought by its French distributor in 1957. Throughout the entire era of motorised transport, Motul has been conscious of its role in not only creating history through innovative product and service development, but also contributing to the heritage of the industry as a whole.
In order to ensure yesterday's vehicles are fit to face both today's and tomorrow's roads, Motul has developed a comprehensive line of products for historic vehicles, using, where necessary, the very latest in technology. For historic vehicle owners, the product range is truly extensive and with more than 270 car clubs and 70,000 visitors expected to attend the event, it represents another opportunity for the historic vehicle community not only to become better acquainted with Motul's comprehensive - and expanding - product offering for the sector, but also to benefit from the Motul expertise on hand, to assist them with running and maintaining these cherished vehicles, using the latest solutions available for historic vehicle lubrication.
The Motul name is synonymous with quality of product and service, all built from a base line of expertise and enthusiasm for its markets and the vehicles within them. Motul actively supports the preservation of motoring heritage, through its Fondation du Patrimonie, and via museums and exhibitions such as the Lancaster Insurance Classic Motor Show, with discovery+, as well as through its other partnerships across the historic vehicle world (eg. FIVA, the FBHVC, Goodwood Revival, Classic at Silverstone, Carrera Panamericana, Isle of Man Classic TT, Tour Auto, and Le Mans Classic). This illustrates the passion of the brand, its owners and staff and their desire to transmit this passion to the younger generation and a visit to either the Motul Stand or the FBHVC Village Green will demonstrate this.
In line with its recently announced partnership Motul will be one of the participants in the FBHVC's Village Green area in Hall 5, taking part in the various activities that the Federation will be staging over the course of the show. This will include its superb efforts to raise money for the NSPCC's Childline and Motul's distinctive and much-loved Renault Vagabond truck will be on display, together with a fantastic Rickman CR 900, which is based on the legendary Kawasaki Z1.
Hall 5 will also feature Motul's own stand, where the focus will be on Motul's display of historic vehicles. The shop on the stand will embody the recently launched Club Motul, which aims to give historic vehicle enthusiasts more direct access to everything Motul has to offer: technical assistance, product advice, merchandise and opportunities to be part of the growing number of events in which Motul is involved. Visitors will be able to purchase Motul Oil, either on the spot, or for rapid home delivery. The company's recently launched Car Care range will be on sale, together with its well established and very popular range of Motorcycle Care products.
Show Director, Lee Masters says, "We are delighted to welcome Motul on board as our official lubrication partner. The Motul brand doesn't just talk the talk, it gets properly involved in the areas of the industry which it supplies. It is this commitment to being an active part of events like ours and helping to enhance them, that we find both impressive and exciting. We look forward to this being a partnership that not only benefits both parties but also those who participate in the show, moving forward."
The Historic Vehicle sector continues to expand in the UK and now comprises more than 1.5 million vehicles that are at least thirty years old and is currently valued at more than £7 Billion annually. The Lancaster Insurance Classic Motor Show, with discovery+, reflects the growth in the sector, celebrating over 35 years since it first appeared at the NEC, with it now more than quadrupling in size from its original one and a half halls.
Motul UK Country Manager, Callum Goodland comments: "To be the new, long term Lubricant Partner of the show is a move that really excites everyone at Motul. Partnership is one of our key building blocks at Motul - as anyone who looks at the brand, and its history, can see. To be linked with this long established and important event in the historic motoring calendar - for both enthusiasts and for the industry itself - is an opportunity that we view as another important step forward towards Motul becoming a leading force the UK's historic vehicle market place."
For further details of Motul's products, its history and partnerships, and the latest Motul news: www.motul.com
Motul press enquiries: Simon Maurice +44 (0)7771 597961 or email: simon@chicane.marketing
For Classic Motor Show media enquiries, please contact: Andrea Seed at Poppyseed Media: +44 (0)7812 010765 or email: andrea@poppyseedmedia.co.uk
ABOUT MOTUL
Motul is a world-class French company specialised in the formulation, production and distribution of high-tech engine lubricants (two-wheelers, cars and other vehicles) as well as lubricants for industry via its MotulTech activity.
Unanimously recognised for more than 165 years for the quality of its products, innovation capacity and involvement in the field of competition, Motul is also recognised as the specialist in synthetic lubricants. As early as 1971, Motul was the first lubricant manufacturer to pioneer the formulation of a 100% synthetic lubricant for automotive engines, the 300V lubricant, making use of Esters technology and issued from the aeronautical industry.
Throughout the years, Motul has gained experience as an official supplier to many racing teams and manufacturers and contributes with them to further technological development in motorsports.
Motul is supporting those teams in international competitions such as: 24 Hours of Le Mans (cars and motorcycles), FIA World Endurance Championship, Super GT, IRC, Drift, Pikes Peak, Japanese championship Super Formula, GT World Challenge Series, MotoGP, World Superbike, World MX, FIM Endurance World Championship, Supercross, IOM TT, Motul FIM Ice Speedway Gladiators World Championship, Rallycross, F1 Boat and scores of others.
UK Contact - Callum Goodland: c.goodland@uk.motul.com