07 Nov 2021
New repair panels for the R8 Cabriolet and 3 door models now available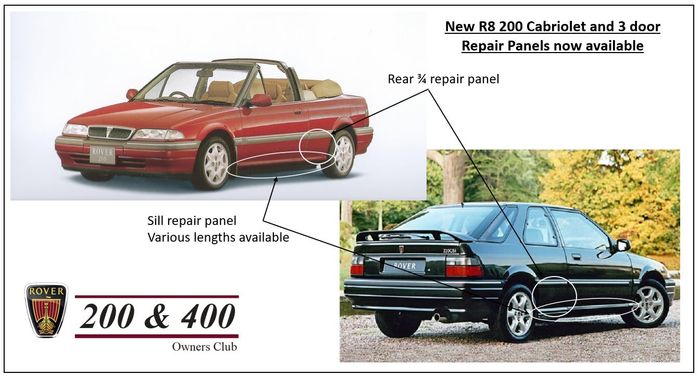 The Rover 200&400 Owners Club is pleased to announce the availability of new repair panels for the R8 Cabriolet and 3 door models.
The panels being produced are the lower rear ¾ panel and sill repair panels, which are available in several lengths, and will allow owners to repair the main corrosion 'hot spot' of these cars with pre-formed panels designed to make the job as simple as possible. Both hands of each panel are available and, in addition, an unflanged sill section panel.
Tooling has been commissioned with R2D Engineering and will allow for ongoing production of panels to meet the demand for these previously unavailable parts.
Prices are as follows:
Rear ¾ repair panel - £57ea for club members
Quarter sill repair panel - £30ea for club members
Half sill repair panel - £38ea for club members
Sill section (unflanged) - £34ea for club members
The panels are common between the Rover R8 200 Cabriolet and 3 door models but differ from all other R8 derivatives. The shape of the panels has been designed using original Rover panels with the joint lines being as these panels - the top joint is largely hidden behind the side rubbing strip
Sizes are as follows:
Rear ¾ panel 525 x 280mm
Quarter sill 420 x 160mm
Half sill 870 x 160mm
Sill section 885 x 160mm
Initially the panels will only be available to club members.
For details of how to purchase these panels, please visit the club website https://rover200.org.uk/members
For more info email info@rover200.org.uk