27 Oct 2021
Sunbeam Tiger - The Journey Continues!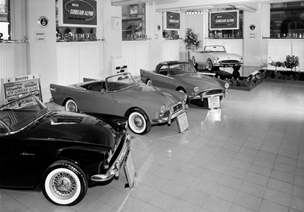 Sunbeam Tiger and Alpine Owners Club recreating the 1960's Rootes Dealership at the Lancaster Insurance Classic Motor Show
The Classic Motor Show at the NEC, Birmingham, on Saturday 13th and Sunday 14th November 2021returns after the previous years cancellations due to covid restrictions, and we expect a larger presence of traders, car clubs and associated autojumble and tool vendors.
Jointly, with the Sunbeam Alpine Owners Club, the Sunbeam Tiger Owners Club is making a very big effort to present a professional and well presented entry for the Best Car Club Stand which is in tune with the theme of this years' event "The journey continues." We have secured professional signage to support the theme of the stand which is to recreate the atmosphere of a 1960's Rootes Group Sunbeam dealership. We have a large (12m x 11m) stand in Hall 3 on which we will have 7 outstanding examples of the Sunbeam Tiger and Alpine marques, comprising concours winning examples of Tiger Mk1, Mk2 and Tiger race car, an Alpine series 2 (Lake Blue "Bond" car complete with whitewalls a la "Dr No"), a series 3, a series 5, and a Harrington Alpine "LeMans" Coupe. Club members on duty on the stand will wear 60's attire to compliment the stand and to represent the marque to the potential "Car buying public". We will have modern touches like QR codes that can be scanned to guide the public to the owners club membership pages, plus detailed overviews of the cars and the accessories available to 1960's Sunbeam Tiger and Alpine buyers.
I hope you can make time to attend the event and share in the "Journey continues" for the Sunbeam Tiger in Hall 3 on stand 3-370.