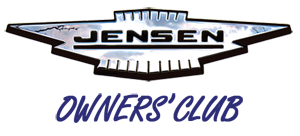 We have a five car stand this year with a variety of models, an FF II - the first car with four-wheel drive and anti-lock brakes (15 years before the Audi Quattro), two Interceptor IIIs - one 6.3 and one 7.2 litre, a 541R and a Jensen-Healey II - it being 50 years since the launch of the mark 2.
We also have a variety of club regalia available to buy including clothing, wiring diagrams and manuals.
We are a friendly bunch so please pop over for a chat.