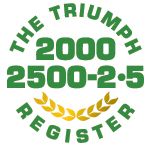 The Triumph 2000 / 2500 / 2·5 Register is a classic car club dedicated to the preservation, ownership and enjoyment of the Triumph six-cylinder saloons and estates produced between 1963 and 1977.
The Register is run for the benefit of its members by the Triumph 2000 Register Limited. We warmly welcome owners and enthusiasts for these cars from all backgrounds.
The club was founded by a small group of enthusiasts in 1981 and since then has grown to over 700 members worldwide, our glossy magazine "Sixappeal" is the envy of many larger clubs and is the main focus and contact point for our members. We have active junior members, and although currently small in number make up for that with sheer enthusiasm. The club celebrated its 40th anniversary in 2021 and looks forward to the future with renewed enthusiasm guided by its committee and members.
We also have an active Facebook page, dicussion forum on our website and we attend many shows including our own week long National Event. Many local groups meet around the UK for monthly get togethers and many members find this one of the great attractions of club membership. These groups are very sociable and organise many events for their members.
Access to major traders, smaller individuals who help with spares and advice as well as a club insurance scheme, the Register is a must for any 2000/2500/2.5 fan.
Address
19 Woodbury Close
Callow Hill
Redditch
Worcestershire
B97 5YQ
United Kingdom