1931 Bentley 4-litre Sports Saloon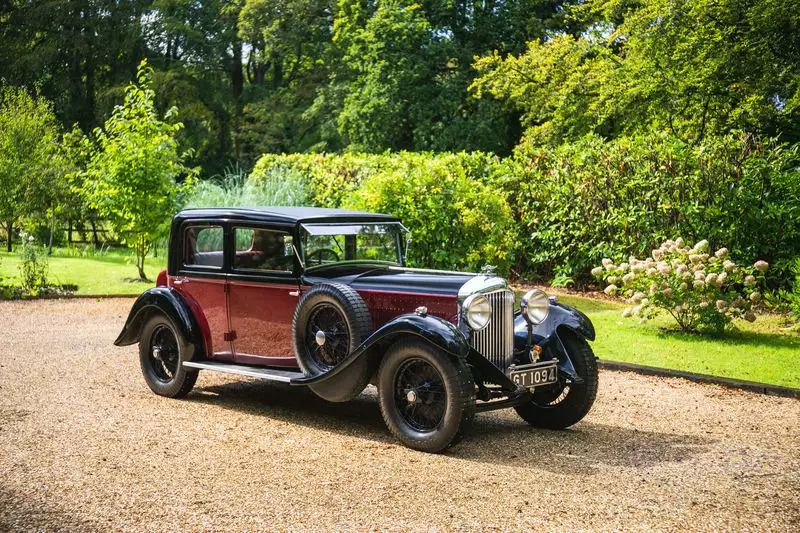 1931 Bentley 4-litre Sports Saloon
The Bentley 4-Litre was the old Cricklewood company's swansong model before its absorption by Rolls-Royce. With the Depression biting, sales of the old 4½-Litre were declining and, with its newest, 8-Litre, model costing all of £1,850 in chassis-only form, Bentley Motors desperately needed a new smaller model to compete with Rolls-Royce's successful 20/25hp. The result was the 4-Litre. The six-cylinder engine was designed by Ricardo, with overhead inlet/side exhaust valves and a claimed output of 120bhp at 4,000rpm. A double-drop chassis was adopted, closely based on that of the contemporary Bentley 8-Litre, and offered in two wheelbase lengths: 11' 2" and 11' 8", both of which were shorter than the shortest of the two 8-Litre chassis available.

Although 'W O', apparently, did not like the Ricardo design (considering it difficult to tune) the fundamental soundness of the inlet-over-exhaust arrangement was aptly demonstrated post-war, with engines of this configuration powering Bentley and Rolls-Royce motor cars up to 1959. The 4-Litre was not fully understood in period and much maligned yet, with the benefit of hindsight, it had the best chassis, gearbox and rear axle of all the pre-war Bentleys, proving ideal to be converted into 6½- and 8-litre specials in later years. Only fifty '4-Litres' were completed before the original Bentley company's liquidation, with only a dozen believed to exist today.
This, rather handsome, 4-Litre Sports Saloon (Chassis #VF 4011) dates from 1931 and was purchased by our vendor from North Wales in 2019. It was described at the time of his purchase as "The car is matching numbers with the original engine, steering box etc. and the restoration included an extensive mechanical overhaul of the engine, chassis and all running gear as well as totally rebuilding an original, very handsome, Gurney Nutting body with twin side-mounted spare wheels, louvred bonnet and scuttle, 'trouser crease' wings etc. The quality of the reconstruction of the coachwork and the attention to detail are really something to behold, showing dedication, genuine enthusiasm and a desire to make the coachwork indistinguishable from the original."
#VF 4011 has a fascinating history and was delivered new to J. M. Robertson of 45, West Nile Street, Glasgow wearing a Weymann saloon body by Freestone & Webb. Two years later, it had migrated south to A. R. Timson of Kettering and, in 1937, it passed to J.W. Tompkins of Peterborough. The old buff log book with the car cites Dr Benjamin Spiers of Harley St. as the owner in January 1949. Dr Spiers was responsible for having a rakish Drophead Coupé alloy body fitted to the car, which was assumed to have replaced war-damaged or modified bodywork as its use in that period is not known. It was in this form that its next owner purchased the car from Harvey Hudson & Co. Ltd. of South Woodford, Essex in April 1954. He fondly recalls haring around the Essex countryside in the 4-Litre as a young man and having enjoyed it immensely, but within a year his impending marriage curtailed these activities and forced him to advertise the car for sale. It was offered in Motorsport magazine, where it was listed as having had £1,500 spent since 1945 and a recent engine rebuild by McKenzies, but with no buyers forthcoming, and a need still to economise, the car was laid up on blocks until 1986.

It was then that the 4-Litre was booked into Arthur Archer's esteemed restoration works in Dunmow, Essex in September 1986 for an engine overhaul. This rebuild quickly developed into a complete restoration of the chassis and running gear and, as this work neared completion, the owner and restorer were faced with a conundrum over the car's bodywork. It made little sense to restore the 1940s body as this was an anachronism for the 30s car but unfortunately no photos existed of this car as new. At this point, fortune played its part when another 4-Litre was discovered locally. Despite that car's derelict condition it retained a front and a back door from its original bodywork, a Gurney Nutting saloon, and a period photograph of the bodywork existed. With enough to work from, it was decided to replicate that car's Gurney Nutting bodywork for #VF 4011. The design in question was fitted originally to chassis #VA 4076, as illustrated in Johnnie Green's 'Bentley, 50 years of the Marque' on page 135.

There is little doubt of the quality and eye for detail with which the car's bodywork was remade, Archer's motto of 'Older than the Industry' being testament to their familiarity with all aspects of restoration, including coachbuilding. The new coachwork was exquisitely painted in a two-tone livery and trimmed in deep red leather hide, its interior being appointed with period correct vanity units, correct dashboard instrumentation and even a tool storage area behind the rear seat. In total, the cost of the 12-year rebuild amounted to some £90,000, for which each and every bill is available, many dating from the late 1980s when labour was considerably less than today. Upon its completion, the Bentley was first shown at the Bentley Driver's Club Annual Concours in 1998 and was lightly used over the following years before being offered to market in 2010.
Between 2010 and our vendor's purchase in 2019, #VF 4011 (still registered as GT 1094) at some point was owned by one of Ireland's most celebrated collectors and enthusiasts, Jimmy Boland, who used the Bentley on the Gordon Bennet Rally, and it was well maintained as part of his extensive collection. Equally, our vendor has continued the cars history of cosseted ownership and regular maintenance during the last four years keeping the car in climate-controlled storage when not in use.
This is a well-restored example of a rare model, and a commendable labour of love to have rebuilt the car to its original form. Without doubt it would make a very practical and usable touring car for Bentley Driver's Club events and the like and would be welcome anywhere.