1987 Ford Sierra Cosworth RS500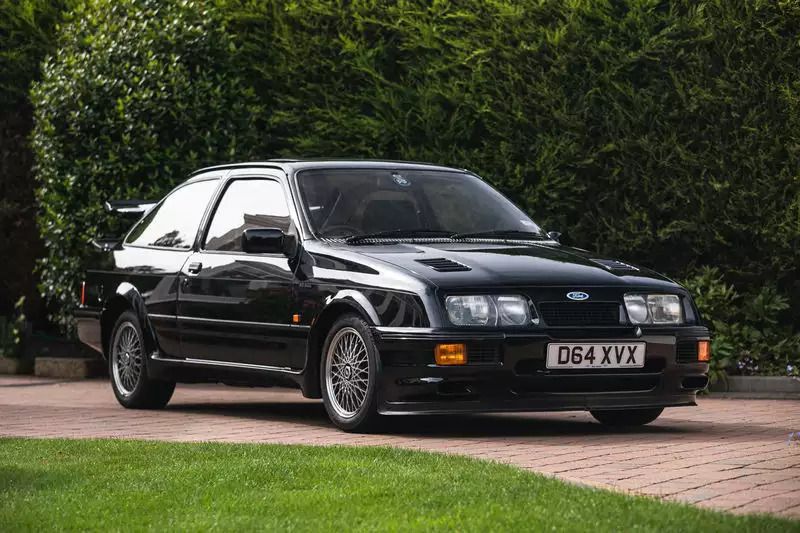 1987 Ford Sierra Cosworth RS500
With a known history from day one, this particular Sierra Cosworth, 'D64 XVX', arrived with Aston Martin Tickford Limited on the 22nd April 1987 and left as a fully fledged RS500 on the 23 June 1987, believed to be the 13th produced, prior to being immediately road registered by its first custodian/keeper, the Ford Motor Company of Eagle Way in Brentford. It remained with Ford for the following twelve months and was pressed into service as a press/promotional vehicle illustrated by its appearance in What Car magazine (September 1987) within an article entitled 'Ford's 500', a copy of which will accompany the vehicle.
Once duties with Ford were completed, the Sierra changed hands arriving with its second and current owner on the first of June 1988. His intention was to use the car for promotional purposes once again, however, after some twelve months, work commitments dictated a move abroad and the RS500 was placed into storage, on stands, with wheels removed and covers in place, and there it has remained until this very day.
Within the knowledgeable RS500 community, the car was thought to have disappeared many years ago although a number of attempts to trace it were made over the years without success. With the upsurge in interest in these rare cars, the decision was recently made by our vendor to find a new custodian for the increasingly desirable 80s homologation special, with it seeing light of day for the very first time since being interred all those years ago. With wheels refitted and covers removed, the Sierra rolled freely out of the garage to facilitate the photo shoot which accompanies this listing with the condition externally and internally being exceptional with no obvious deterioration. It is simply quite remarkable and should be considered as a 'benchmark' example with an incredibly low and warranted 12,530 miles from new.
After much consideration, the decision has been made to offer D64 XVX exactly as it rolled out of storage after 32 years with no attempt being made to start, run or enhance the vehicle in any way so it should be noted that, if the new owner's intention is to put the Sierra back on the road, a full recommissioning will be required. Your early inspection is welcomed and encouraged to fully appreciate the opportunity on offer.