27 Oct 2021
Autumn Finalists Revealed in the Lancaster Insurance Pride of Ownership Competition at NEC Classic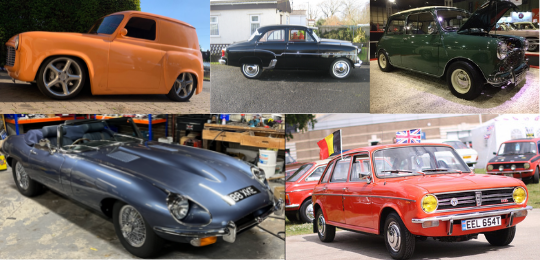 Twenty finalists will be vying for the Lancaster Insurance Pride of Ownership award at this year's Classic Motor Show, with discovery+. This superb array of classics is sure to make choosing a winner even harder than usual.
The oldest entrant this year is the 1953 MG TD owned by Alan East-Jones, closely followed by John Sarrington's striking 1955 Hillman Husky, which has been heavily modified. The 1957 Vauxhall Velox of Paul Siudowski is a cherished classic, and one that's appeared on television.
There's plenty more British classics competing for this year's award, including Glyn and Duncan Hurst's 1978 Austin Maxi, which they imported from Belgium. The 1964 Austin Mini Super owned by Ian Whitticase always gets plenty of attention at shows. Tim Ward found his 1969 Jaguar E-Type at the 2017 show and has since fully restored this iconic car which will make its show debut.
Just one American car features this year, but Shane Smith's superb 1957 Chevrolet Bel Air Convertible is guaranteed to get plenty of attention. For something rare, the 1982 Lynx Eventer, owned by Fay Morgan-Hine, was an early prototype and boasts a fascinating link with the music industry. Visitors to the show will no doubt enjoy admiring Dave Thunder's 1970 Opel GT, too.
Those expecting great sports cars won't be disappointed either. Fabian Steele's 1982 Lotus Esprit Turbo is a stunning replica of a Bond film car, while Paul Hart has owned his superb 1998 Ferrari 355 Berlinetta for more than 15 years. For those that love a fast Ford, Gideon Mayer's 1993 Sierra Sapphire Cosworth is not just a wonderful example but the only one painted in Mallard Green and the last UK-specification right-hand drive car to leave the production line.
Despite it being autumn, there's a strong drop-top theme to this year's competition. The 2000 Audi 80 Cabriolet, owned by Gareth Jones, is one of the last produced and in completely original condition.
Jim Smyth's 1964 Fiat 1500 Cabriolet was bought in 1990 and subjected to a complete restoration taking almost 30 years. The 1962 Bentley S2 Convertible of Mark Nobbs is one of just 62 right-hand drive examples and may just be the best you've ever seen, while Jake Clappison was just 19 when he bought his lovely 1979 Triumph Spitfire.
John Jones did almost all of the restoration work to his 1984 Rover SD1 Vitesse himself. Stuart Turp's 1983 Ford Capri 2.0S had been off the road for around 20 years but has been restored to stunning condition, while the 1990 Toyota Celica 2.0GT of Paul Edwards is a rare automatic and in equally amazing order.
Last but not least is Richard Stringer's 1975 VW Golf Mk 1, a car he bought from The Netherlands, and which had covered just 12,000 miles in the hands of one owner. Wanting a completely original example, this popular family classic is in truly first-class condition.
"After all of the difficulties caused by the pandemic, I'm thrilled that the show is returning with such a strong display" says Andrew Evanson, Senior Operations Manager at Lancaster Insurance.
"It's a credit to the owners of all the cars here, and with such a special selection of classics it is going to be very tough to pick a winner. The great cars and ownership stories are what makes the show such a treat for enthusiasts of all ages."
The winner of the Lancaster Insurance Pride of Ownership will be decided by the show visitors who will be invited to vote for their favourite. The winner will be announced on the Sunday afternoon.