15 Nov 2022
Passion reignited at the Lancaster Insurance Classic Motor Show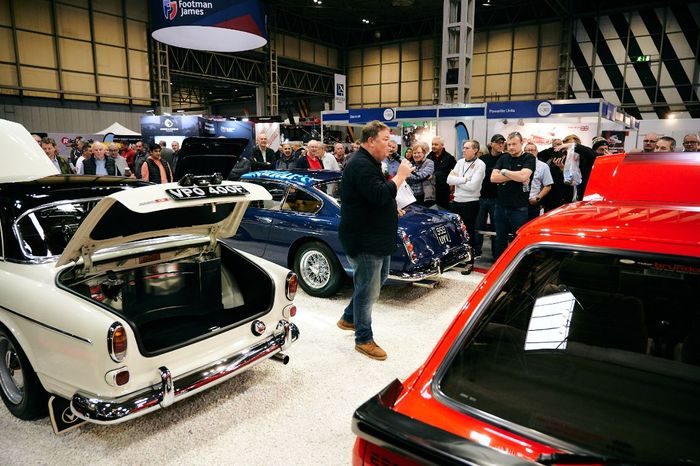 Passions were reignited this weekend as we welcomed 69,324 attendees to Birmingham's NEC for the annual season finale of the classic car community.
Show Director, Lee Masters said: "What an incredible weekend! The atmosphere was fantastic with passionate enthusiasts filling the halls. I was excited walking around watching the interactions between people. The community coming together made me feel emotional and proud of the movement. Also, the quality of exhibits and displays were off the chart, people went above and beyond. Huge thanks to all the clubs and our partners, exhibitors, and visitors for their continued support."
The judges of the coveted Meguiar's Club Showcase awarded the crystal trophy to Mark Rainer and his 1956 Triumph TR3, who won by just three points in one of the closest competitions to date.
Visitors voted Ian Croft and his 1968 Lotus Elan Plus 2 the winner of the Lancaster Insurance Pride of Ownership. Second place went to William Flay and his 1976 Ford Escort RS2000 with Stephen Cheape's 1981 Ford Fiesta 950 Popular taking third place.
The judging panel declared Christopher Bourne and his 1991 400 Honda NC30 winner of the Bike Pride of Ownership competition. Steve Taylor's 1960 Bowden "Space Velo" Replica was the runner up with third place going to Alexander Adams' 1936 Triumph WERK Nuremberg TWN B-200.

Around 300 car clubs embraced the show theme of 'Part of the Family' with amazing displays filling the seven show halls. An estimated 3,000 vehicles including the newly restored Wings tour bus, Andy Saunders' one of a kind 'Deja' custom build, and a collection of 'Restomods' curated by Jonny Smith's Late Brake Show were on display.
Silverstone Auctions hammered away £7.3million worth of car sales on Saturday with a 75% sales rate and six new world record price tags. On Sunday, 141 motorcyles were on offer with 85% sold for £750,000, while around £100,000 was secured from 72% of the Automobilia lots.
Celebrating its 30th year of operating Dream Rides at the NEC, the Sporting Bears Motor Club added another £35,767 to its fundraising total, which has now exceeded over £3million.

Richard Morley from headline sponsor Lancaster Insurance Services said: "There is nothing quite like being back with everyone at the NEC for the season finale and celebrating our shared passion for classic cars. This year truly summed up what our community means to so many, being part of the family, and it's a family we are proud to be a part of."
New for 2022 and one of the highlights of the weekend was the Motorbike Trial demonstrations by 12 time World Champion Dougie Lampkin and his son Alfie. They both wowed the crowds with their expert skills as well as causing a stir when Dougie jumped his bike over Wheeler Dealers' Mike Brewer and 'Auto Alex' Kersten as well as Show Director Lee Masters.
The next Lancaster Insurance Classic Motor Show, with discovery+, will be held at Birmingham's NEC from Friday 10 to Sunday 12 November 2023.
Sign up for the newsletter for the latest updates at www.necclassicmotorshow.com/newsletter.