01 Nov 2022
Sporting Bears Celebrates 30 Years of Dream Rides at the Classic Motor Show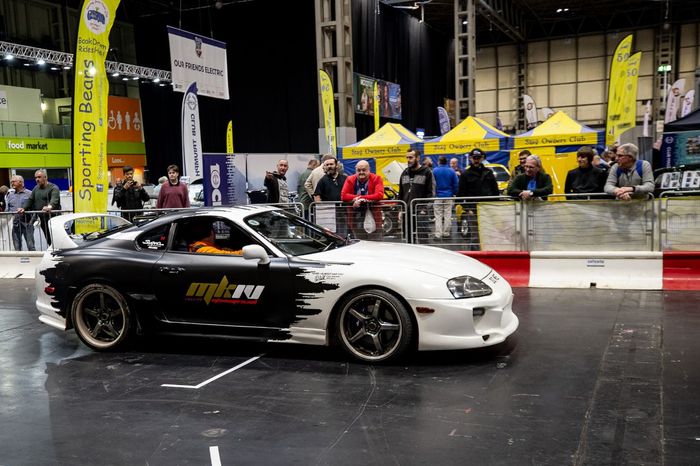 The Sporting Bears Motor Club will celebrate 30 years of operating the popular Dream Rides garage at the Lancaster Insurance Classic Motor Show, with discovery+. Around 100 cars are expected to offer this amazing experience at this year's event held at Birmingham's NEC from 11-13 November 2022.
Since 1992, the Sporting Bears' members have offered their cars, time and even their fuel for free in order to give enthusiasts the opportunity to enjoy a ten-mile ride as a passenger in one of their vehicles. All they have asked for in exchange is a donation to one of the many deserving charities the club has supported.
Over 250,000 visitors have enjoyed a 'dream ride' since its launch at the show, which has raised over £830,000 for 110 different children's charities spread across the UK.
This year will be no different as the Bears will be out in force to raise money for Acorns Children's Hospice, Buddybags Foundation, Bluebell Wood Children's Hospice, Children's Hospices Across Scotland, Zoë's Place Baby Hospice Middlesbrough and Brian House Children's Hospice.
From the first year the club attended, the Bears have been fundraising, collecting £2,650 for Children in Need. At the 2021 event, they raised around £35,000. Having achieved numerous milestones, the Bears are set to announce their latest total as the show opens on Friday 11 November.
Lee Masters, Show Director, said: "The Sporting Bears and Dream Rides are a huge part of the show and its history. Not only do they create one of the show's highlights but they are also so generous to visitors as well as the charities they support. We are so proud to have supported them right from the start and long may it continue."
The Dream Car Garage sits in the corner of Hall 5 where, along with a static display of stunning vehicles, visitors will find the booking desk. Pictures of all the cars in the garage will be on display with a suggested donation for enjoying a ten-mile ride as a passenger.
A ride in a classic MG may cost you £10, while a ride in a Buggatti Veyron will cost around £100. Every seat in the car can be filled meaning it is an experience the whole family can enjoy together in the right car.
Once you've chosen your car, been introduced to the car's owner and settled into the passenger seat, the journey begins as you leave the perimeter of the NEC and head out onto the open road. On your return, there's time for pictures before you enjoy the rest of the show.